The largest US company based upon current market cap is Apple (AAPL). Earlier in 2017, this metric hit $900 billion, and many pundits believe that the company's market cap could hit $1 trillion in the near future.
Over the past several years, investors have been rewarded handsomely for their investments. From a split-adjusted close of $0.59 in January 2018 to the current price that's over $170 a share, it's hard to find many other companies that have been as beneficial to shareholders.
The company has split its shares three times since 2000, so a long-term investor in Apple stock would currently have 28 shares for each share that they owned in 2000. This is based upon 2-for-1 splits in 2000 and 2005 and a 7-for-1 split in 2014. If they had reinvested dividends, they'd have even more.
Apple Stock Pays Growing Dividends
In addition to these splits that have helped investors with liquidity over time, the company re-instituted a dividend in 2012 after having not paid shareholders since the mid-1990s. This quarterly dividend started out at $0.3786 per share ($2.65 in pre-split terms). It's now $0.63 per quarter per share.
Not only does Apple pay a dividend, it's grown every year since its latest inception. The annual raise has been in the range of 10 percent annually. Therefore, investors could expect to see their dividend payout double every seven years or so. Most people will not see this type of growth in the income they earn from their day jobs, so the growth in passive income is definitely something that's beneficial.
Increased Revenue Led to Higher Income
Less than two years ago, many investors had concerns over Apple's ability to maintain their recent run of good returns. The company's stock dropped from more than $130 per share through much of 2015 to an intra-day low of less than $90 a share on a decline in sales and revenue. The stock dropped 14 percent in April 2016 alone. This provided a nice buying opportunity in hindsight.
Since that early 2016 low, the company's share price has been on a tear, nearly doubling in price based upon its recent highs of more than $176 a share.
Thus far this year, the company has seen its revenue and net income rise quite a bit. The most recent annual report showed that Apple saw both its revenue and its net income grow over the past year. However, both numbers were still below its record year of 2015.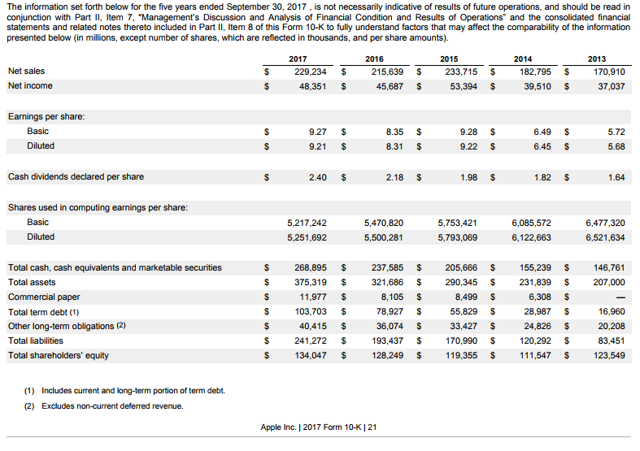 Source: Apple Annual Report
The numbers are quite impressive, to say the least. Net income was more than $48 billion in 2017, and it's not been lower than $37 billion since 2013. To put it simply, Apple is a cash- and profit-generating machine. Net income has grown by nearly 31 percent since 2013, while the dividend has grown by 46.3 percent. Even at that, the dividend payout ratio was less than 26 during FY 2017. Therefore, the dividend growth has room to run.
In addition to rewarding shareholders with a nice rate of dividend growth, the company has bought back millions of shares. These buybacks tend to help the earnings per share immensely as long as revenue and profits stay stable. If net income goes up, as it has over the past five years, the earnings per share can really improve quite rapidly.
Apple Bought Back Lots of Shares
Overall, Apple has reduced its share count by right around 19 percent since 2013. This means that basically one in every five shares of Apple stock from 2013 are now off the market.
Apple's balance sheet shows a stash of more than a quarter of a trillion dollars, nearly $269 billion, to be exact. Much of this is held overseas, and Apple will be able to repatriate these earnings at a rate of 15.5 percent as a result of the recent tax reform bill that President Trump signed into law in late December.
This development could definitely have an important affect on Apple shareholders. The cash that Apple holds on its books is more than the overall GDP of relatively developed nations like Chile, the Czech Republic, and Finland. It is quite likely that much of this money will flow toward shareholders under the guise of additional share buybacks and dividends increases. Apple could even pay a hefty special dividend if the company chose to do so.
When looking at valuations, Apple is more attractive than the market as a whole at this point. For much of the early part of 2016, Apple's PE hovered around 10, where it had also been back in 2013. Today, it's price is around 18.53 times earnings. This compares with a PE ratio of more than 25 for the S&P 500 (VOO).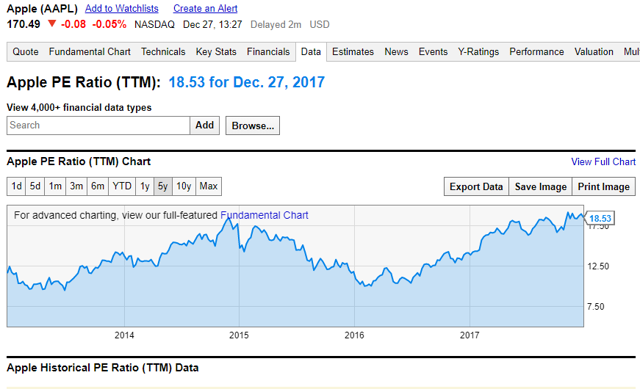 Source: ycharts.com 
What About Repatriating Overseas Cash?
While there have been a couple of excellent buying opportunities in the past five years, the cash that Apple can repatriate is a big question mark, as it could buy out many shareholders and pay off for the ones who remain. Some analysts are expecting that the infusion of cash will lead to more and accelerated buybacks.
On the other hand, Apple just rolled out its latest cycle of upgraded hardware. Therefore, loyal customers will likely wait a while before upgrading their mobile devices, which could lead to a short-term drop in revenue, much like the one that caused the tech giant to take the hit from 2016 that was referenced above.
Overall, the massive cash flow, revenue, and profit that Apple brings in make it a very attractive holding. The possibility of repatriated cash make it even more intriguing. It is definitely on my watch list for the upcoming year. At some point, I would like to hold Apple stock in my dividend income portfolio.